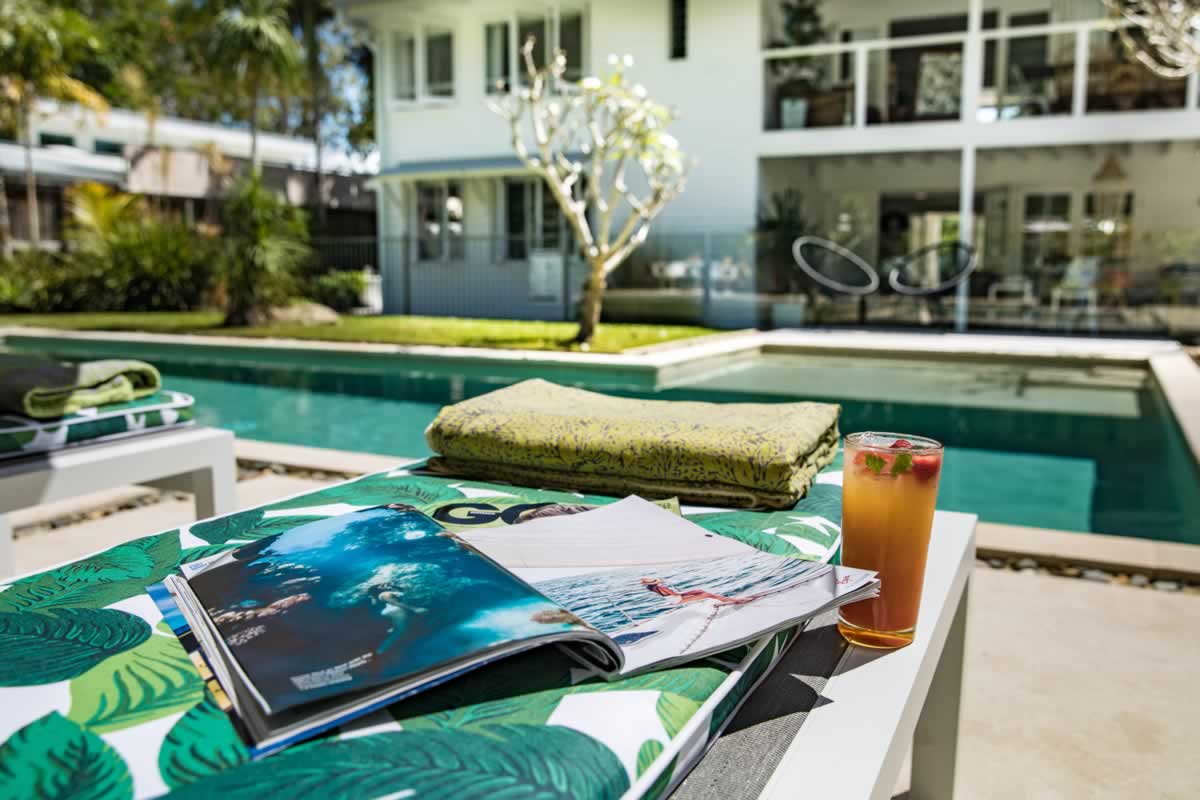 We could not have loved this property more. It's physically beautiful and every nook and cranny (and there are many) has been thoughtfully designed and furnished. It's just a sheer pleasure to be in. We (two families of 4) spent our days relaxing by the pool, enjoying breakfast, lunch, dinner and drinks on the beautiful decks – both up and down – and cooking up a storm in the incredibly well-stocked kitchen and on the barbecue. We needed time to just be together and catch up and this was the perfect environment. Surrounded by light, white spaces and verdant tropical beauty it was the perfect setting to relax. And with the beautiful pool and proximity to 4 mile beach the kids were easily occupied too. Charlotte, the owner, could not have been more helpful. She was flexible and went above and beyond to make our stay a pleasure. Not only that, she's a font of local knowledge and also a highly skilled and intuitive masseuse. She came to the house and massaged us into pure bliss! The word that springs to mind when I think about Jamaica House is generosity. Increasingly the places we have stayed (both rentals and commercial properties) have the bare minimum in terms of basics and necessities and host help. Jamaica House was the opposite. There is truly everything you could ever need and lots of it. We are planning our next stay here.
The most amazing house in a great location and only 5 min walk to the beach. We cannot recommend Jamaica Beach House more highly. It was absolutely perfect for our holiday with friends and family and we cannot wait to come back.
Thank you Charlotte, what a wonderful week we've had in your beautiful home. We are a group of 10 friends from Melbourne celebrating x 2 60th birthdays. This spacious, comfortable and superbly appointed beach house was just the ticket! The expansive pool area was wonderful and with so many 'chill out' zones around the house- there was no way we'd trip over each other- It's a lovely beach walk into town – heaps of great places to eat, drink and soak up the tropical sun. We hired 2 biggish cars to ferry us around with short distance to Mossman Gorge and the Daintree. It was easy organising our day on the reef too- superb. Charlotte was prompt and efficient whenever we had queries about our stay , even offering an in-home massage service to interested guests- for an extra bit of luxury there is a secluded private outside bath area- quiet and tropical – recently completed and perfect for apres holiday activities! Thoroughly recommended and for a group holiday I'm not sure we could've done better. Now back to the chill of the southern winter! We'll keep dreaming of Jamaica House!
Jamaica House was the perfect house for our family birthday celebrations. Charlotte was very accomodating and responsive to our needs and questions and the house was really well equipped and beautifully decorated in the relaxed boho style. There were lots of private spaces both inside and outside the house if you wanted some quiet time but also plenty of space to entertain when the extended family came for dinner. A lot of time was spent lazing around the pool – although the close proximity to the beach (2 minute walk) gave another perfect alternative for swimming (at this time of year – July). We had a fabulous time in this beautiful tropical space.
Wow, we arrived and instantly fell in love with Jamaica Beach House! We felt so lucky to be spending a week there. It was like paradise! Everything was so perfect in every way. So beautifully decorated. We had our extended family of 10 there and we couldn't have asked for more. The kiddies and adults spent many hours in the the pool area which was like being in a resort. Great location, beautiful home!! Highly recommend staying at Jamaica Beach House. Would love to stay again. We were all very sad to leave, including the kids. Thank you Charlotte and Frank for our amazing holiday.